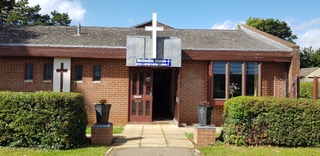 Carterton Methodist Church was founded in June 1907 and has proclaimed the Good news and message of Christ and his Gospel for 109 years. It is the oldest of all the churches in Carterton town and has grown from humble beginnings into a faithful, vibrant and humble servant to the community of Carterton. The church serves the community by bringing worship at 10:30 am every Sunday, except for Remembrance Sunday when the town gathers together to remember those who have lost their lives serving their country. The Church also provides Fellowship Groups for all ages to learn and grow more spiritually and know God and Jesus in a happy and safe environment i.e through Fellowship on Wednesday evening at 7:30pm and Sunday school for the kids to learn and have child based worship and games.
The Church is also involved throughout the year in Ecumenical and non Denominational based Services and worship through our links to Churches in Carterton together (C cell G) for short. We are a friendly and warm and open congregation dedicated to sharing the worlds Light and Saviour Jesus Christ to all who wish to know him. You can come and go as you please and all we ask is for you to enjoy yourself and have FUN. Noise is always welcome and laughter is never far away.
The church has brought youth Groups in the past and still aims to do so again in the future. We have close friendships with our Brothers and Sisters in Christ at St Johns, St Josephs, Carterton Community Church and many others in the surrounding area, including strong bonds and friendships with the Chaplains at R.A.F Brize Norton who are sometimes invited to lead worship at the Church.
The Church also provides the Community with the chance to utilise its Building for other Groups to use it as meeting place for e.g Slimming world, Brownies and Rainbow Toddlers to name a few.
YOU WILL ALWAYS BE WELCOMED WITH A SMILE
THE LORD INVITES YOU
GOD BLESS ALL
You can find out more information on our Facebook page