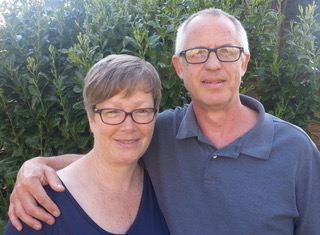 Meet Reverend Ian Worrall and his wife Sue. Ian is based at Carterton Methodist Church as a pioneer minister and he will work with Carterton as they pray to seek God's vision for the future.
We are both from SE London though it is now 35 years since we last lived there! We have 3 children and 3 grandchildren based in the Midlands where we have ministered the last two of 5 circuits. In our time in the Methodist ministry we have seen God move in so many people's lives, including our own. We have so many stories to share, but we are keen to see God write some new ones here in Carterton. We are both members of Aldersgate Renewal Ministries which see teams from across Europe lead weekends for churches seeking the renewal of the Holy Spirit.
Not surprisingly our passion is for renewal and restoration at both the church and personal level. Sue's degree is in music and loves to play for worship. Ian's degree is in Agriculture which sees an outlet in organic gardening, otherwise his interest is in sport, especially athletics.